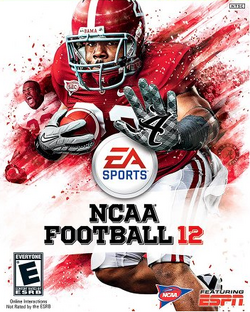 NCAA Football 12 is the 19th installment of the NCAA Football Series of video games. It was developed by EA Tiburon and EA Canada and released by EA Sports on July 12th, 2011 for Xbox 360 and PlayStation 3. Edit
NCAA Football 15
For this edition of the game, EA sports held a contest where fans could vote to determine who would be on the cover. The name of the campaign was "U Want Me", with the options being Alabama running back and 2009 Heisman trophy winner Mark Ingram, Jr., Auburn defensive lineman Nick Fairley, Oklahoma running back DeMarco Murray, and Washington quarterback Jake Locker. Votes were taken from the game's Facebook page and Mark Ingram, Jr. was announced as the victor on April 19th, 2011. However, alternate covers featuring the other candidates are available for download on the NCAA Football 12 website. You can also insert your own picture (on the body of a player from your favorite team) on the cover of the game by visiting the game's Facebook page.
A new momentum-based tackling system has been introduced, including double-hit tackles and an overall increase in the number of tackle animations. A coach mode has also been added, where players can call plays, and make pre-play adjustments as well as watch them unfold, through a broadcast-style camera. Field grass is now rendered in 3-D for instant replays. In addition, various aspects of the game have added sponsorship picked up from SPARQ, Allstate, Coca-Cola Zero, Nissan, and Lowe's.
For Dynasty Mode, changes include a new coaching carousel where players can start as offensive or defensive coordinators and change jobs or get promoted after each season; at the same time, AI coaches will also switch positions or get fired. Crowds will be louder or quieter based on the player's team's success, and how big the stadium is. The ability to create custom conferences has been added; previous versions only allowed one-to-one swaps of teams between conferences; conference membership can also be changed from year to year. Bowl tie-ins can be changed, although there is still no end-of-season playoff option due to licensing with the BCS.
Road to Glory, a game mode in which a player takes control of a prospective collegiate athlete and must practice, study, and play at the level needed to win the Heisman Trophy, has been expanded to include an entire high school senior season (past versions of the game only included high school playoffs) and a points and rewards system to increase ratings.You can use teambuilder teams as your high school opponents. Support has been added for two-way players. Once in college, student-athletes can only advance on their team's depth chart (or call their own plays or audibles if a quarterback) when they have earned enough "trust points" from their coach.
Team Rankings & Ratings
Edit
Team
Rating
Offense
Defense
Sp. Teams
Prestige
1
Oklahoma
A+
A+
A
A
6
2
Alabama
A+
A
A+
B-
6
3
Stanford
A
A+
B+
B+
4
4
North Carolina
A
A+
A-
B
4
5
Oregon
A
A+
B+
A
6
6
Ohio State
A
A+
B+
B
6
7
Oklahoma State
A-
A
B
A
4
8
Boise State
A
A+
B+
B
5
9
Texas A&M
A-
A
B+
B
4
10
Florida State
A
A
B+
A-
5
11
Wisconsin
A-
A-
B+
B
5
12
Auburn
B+
A-
B+
B-
6
13
South Carolina
A
A
B+
B
4
14
TCU
A-
A
B+
B
5
15
Michigan State
B+
A-
B
B+
4
16
Nebraska
B+
B+
B+
B-
5
17
Virginia Tech
A-
B+
B+
B-
5
18
Arkansas
A-
A
B+
B
4
19
Mississippi State
B+
B+
B+
B-
3
20
Florida
B+
B+
B+
B
6
21
Notre Dame
B+
B+
B
B
5
22
Texas
B+
B+
B+
B+
6
23
Missouri
B+
B+
B-
A+
4
24
NC State
B+
B+
B
B-
3
25
Arizona State
B+
B+
B+
C
3
26
West Virginia
B+
B+
B
B
4
27
Georgia
B+
A-
B
A+
5
28
Penn State
A
A-
A-
B-
6
29
USC
A-
B+
B+
C
6
30
UCF
B+
B+
B
C+
3
31
Utah
B+
B+
B
B
4
32
Clemson
B+
B+
B+
B
4
33
Michigan
A-
A-
B+
B
5
34
Miami
A
A-
A-
B+
5
35
Northwestern
B+
B+
B
C+
3
36
Tulsa
B
B
B
B-
3
37
Northern Illinois
C+
C+
C
C+
2
38
Iowa
B+
B+
B
B-
5
39
Hawai'i
C+
C+
C+
C
2
40
Maryland
B+
B+
B
B
3
41
Tennessee
B+
B
B
B+
4
42
Air Force
B-
B
B-
C+
3
43
Baylor
B
B+
B-
B
2
44
Georgia Tech
B
B
B
C
4
45
Oregon State
B+
B+
B
B+
3
46
Pittsburgh
B+
B+
B+
B-
3
47
Connecticut
B+
B
B+
B
3
48
Texas Tech
B
B
B
B-
3
49
Washington
B+
B+
B
B-
3
50
Nevada
B
B
B
C+
3
51
Kansas State
B+
B
B
B-
3
52
Houston
B
B+
C+
B
3
53
LSU
A
B+
A-
B+
6
54
ECU
B
B+
B-
A-
3
55
Cal
B
B
B
B+
3
56
Arizona
B+
B+
B
B
3
57
Virginia
B
B-
B
C
3
58
Navy
C+
C+
C+
C+
3
59
Kentucky
B
B
B
B+
3
60
Ole Miss
B+
B+
B
B
3
61
Illinois
B
B
B-
B
3
62
Louisville
B
B-
B
B
3
63
Syracuse
B-
B
C+
B-
3
64
BYU
B
B
B-
B-
4
65
San Diego State
B-
B
C+
B-
2
66
USF
B+
B
B
B
3
67
Boston College
B+
B
B+
B-
3
68
Fresno State
B
B
B-
A+
2
69
Cincinnati
B+
B+
B-
B-
3
70
SMU
B+
B+
B
B-
3
71
Miami Univ.
B-
C+
C+
C-
2
72
Troy
B-
B-
C+
B
2
73
Ohio
C+
C
C+
C+
2
74
Rutgers
B
B+
B-
B
3
75
Army
C
C
C
C-
1
76
Kansas
B-
B-
C+
C+
2
77
Iowa State
B-
C+
B-
C
2
78
Purdue
B
B-
B
B-
3
79
Minnesota
B-
B-
B-
D
2
80
UCLA
B
B
B-
B
2
81
Temple
C
C+
C
B
2
82
Wyoming
C-
D+
C
C+
2
83
Indiana
B-
B
C+
B-
2
84
Wake Forest
C+
C+
C+
C
2
85
Vanderbilt
B-
B-
C+
C+
2
86
Southern Miss
B
B
C+
B
2
87
Colorado State
C+
C+
C+
C+
2
88
UNLV
D+
D+
D+
C
2
89
Colorado
B-
B
C+
C+
2
90
Marshall
C+
C
C+
C
2
91
Western Michigan
C+
C+
C+
C
1
92
Duke
B-
B+
C+
B-
2
93
Washington State
C+
C+
C
D
1
94
Central Michigan
C
C
C-
D+
2
95
Tulane
C-
C-
C-
C-
1
96
FIU
C-
C
D+
C-
1
97
Toledo
C+
B-
C+
C
2
98
Louisiana Tech
C+
C+
C+
C-
2
99
Idaho
C
C
C+
C-
1
100
Mid Tenn State
C
C
C+
B-
1
101
Arkansas State
C
C+
C
D-
1
102
UTEP
C
C
C+
C
2
103
Bowling Green
C-
C-
C-
C-
2
104
Kent State
C
C
C-
D
1
105
Ball State
D+
D+
C-
C-
2
106
Utah State
C
C
C-
C-
1
107
UL Monroe
C-
C
C-
D
1
108
Buffalo
D
D
D
D+
2
109
UL Lafayette
C-
D+
C-
C-
1
110
Rice
D+
C-
D
C-
2
111
Florida Atlantic
C-
C-
D+
C
1
112
Memphis
D+
D+
D
C
1
113
North Texas
C-
C-
D+
C
1
114
San Jose State
D
D
D
D
1
115
UAB
C-
C-
C
C-
1
116
New Mexico
D+
D+
C
B
1
117
New Mexico State
D+
D+
D+
C-
1
118
Western Kentucky
C-
C-
D+
D
1
119
Eastern Michigan
D
D
D
D
1
120
Akron
D
D
D
C-
1