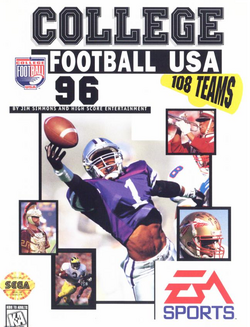 College Football USA 96 was the third installment of the NCAA Football Series, with the name of the game changing from Bill Walsh College Football after the endorsement deal with that coach was dropped. The game was developed by High Score Productions and published by EA Sports for the Sega Genesis platform.
The cover of this game is the only one in the series to feature multiple players from different teams: one each from FSU, Michigan, and Kansas State. It also features the USC mascot, Tommy the Trojan, and the member of the Wisconsin marching band. It should also be noted that the Kansas State player is displaying the cut-off jersey style that was popular in the 1990s, a style that has since been banned from NCAA football.
College Football USA 96 was the first game in the series to feature real bowl games, including the Orange, Sugar, Fiesta and Rose Bowls. Players could also play an entire 11-game season (or shorter if desired) before advancing to one of said bowl games. The playbook featured 400 plays to choose from, and a new passing mode allowed players to select from five receivers on every play. Other new features and options included the following: four-player mode, three different game lengths, substitutions, injuries, audibles, fake snaps, spins, hurdles, dives, blocked kicks, interceptions and laterals.
College Football USA 96 was the first version of the game to feature all division l-A teams, of which there were 108 at the time.