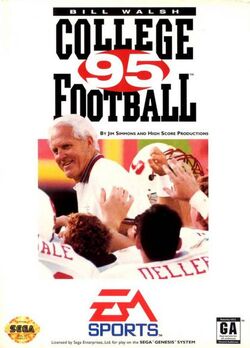 Bill Walsh College Football 95
was the second installment of EA Sports'
college football franchise
. The game was released for the
Sega Genesis
video game console on June 1st, 1994.
The cover features former NFL coach and then Stanford Cardinal football head coach Bill Walsh and several Stanford players.
The game featured a windowless passing mode, customizable seasons from one to sixteen weeks, and complete statistical tracking throughout the season. Players could choose either a playoff system or bowl games with fictional names: Maple Bowl, Palm Bowl, Pecan Bowl, and Redwood Bowl.
Bill Walsh College Football 95 also provided 36 new plays and formations including the Wishbone, Veer, Tee Offense, and 4-4 D.
Bill Walsh College Football 95 features 36 Division I-A teams.