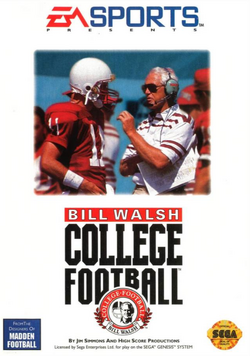 Bill Walsh College Football was the original release of what is now known as the NCAA Football video game series. Created by EA Sports, it was one of the first video games to offer the sport of football at the college level. The game was named after the legendary coach Bill Walsh because the endorsement was intended to parallel the John Madden NFL Football games that are also made by EA Sports. The Bill Walsh name only lasted for two releases: Bill Walsh College Football and Bill Walsh College Football 95.
Bill Walsh College Football was released on 4th generation video game consoles, including Super NES and Sega Genesis, in 1994.
The cover of the game features former NFL head coach and then Stanford Cardinal Football head coach Bill Walsh, discussing a play with one of his players, #11.
Game modes include Exhibition, Playoffs and All-Time Playoffs. The playbook includes 56 offensive plays and 52 defensive plays, including the triple option, the student body, and the wishbone. Other options and features include automatic or manual-pass catch mode, audibles, reverse angle replay, onside kicks, four weather conditions (fair, windy, rain and snow), three different quarter lengths (5, 10 and 15 minutes) and a hurry-up offense.
It is one of the only college football games to offer a choice between traditional Bowl games or a playoff system.
The game features a selection of teams that includes both the 24 all-time greatest college football teams since 1978 and the 24 top-ranked teams from the previous year in college football. While no actual players were named and no official team logos are used in this game, the college teams were listed by city and the players identified by number.
All-Time Greatest Teams
Edit
(incomplete list)
Top-Ranked Teams
Edit
Overall: 91 Quarterback: 61 Running back: 72 Wide Receiver: 68 Offensive Line: 78 Defensive line: 76 Linebackers: 100 Secondary: 93 Place Kicker: 82 Punter: 72
Overall: 70 Quarterback: 64 Running back: 79 Wide Receiver: 72 Offensive Line: 70 Defensive line: 51 Linebackers: 76 Secondary: 84 Place Kicker: 51 Punter: 87
Overall: 72 Quarterback: 58 Running back: 77 Wide Receiever: 65 Offensive Line: 73 Defensive line: 65 Linebackers: 81 Secondary: 78 Place Kicker: 73 Punter: 83
Overall: 88 Quarterback: 74 Running back: 50 Wide Receiver: 98 Offensive Line: 76 Defensive line: 54 Linebackers: 91 Secondary: 93 Place Kicker: 75 Punter: 100
Overall: 63 Quarterback: 70 Running back: 61 Wide Receiver: 66 Offensive Line: 82 Defensive line: 61 Linebackers: 71 Secondary: 68 Place Kicker: 71 Punter: 75
Overall: 54 Quarterback: 82 Running back: 54 Wide Receiver: 87 Offensive Line: 74 Defensive line: 50 Linebackers: 66 Secondary: 52 Place Kicker: 63 Punter: 72
Overall: 73 Quarterback: 64 Running back: 84 Wide Receiver: 75 Offensive Line: 78 Defensive line: 64 Linebackers: 71 Secondary: 73 Place Kicker: 84 Punter: 77
Overall: 50 Quarterback: 83 Running back: 77 Wide Receiever: 63 Offensive Line: 60 Defensive line: 65 Linebackers: 50 Secondary: 57 Place Kicker: 82 Punter: 93
Overall: 59 Quarterback: 88 Running back: 78 Wide Receiver: 58 Offensive Line: 60 Defensive line: 52 Linebackers: 73 Secondary: 70 Place Kicker: 96 Punter: 68
Overall: 81 Quarterback: 80 Running back: 50 Wide Receiever: 87 Offensive Line: 70 Defensive line: 73 Linebackers: 88 Secondary: 85 Place Kicker: 61 Punter: 83
Overall: 70 Quarterback: 61 Running back: 81 Wide Receiver: 74 Offensive Line: 98 Defensive line: 71 Linebackers: 75 Secondary: 51 Place Kicker: 55 Punter: 66
Overall: 66 Quarterback: 74 Running back: 93 Wide Receiver: 54 Offensive Line: 74 Defensive line: 54 Linebackers: 78 Secondary: 69 Place Kicker: 67 Punter: 89
Overall: 69 Quarterback: 67 Running back: 68 Wide Receiver: 92 Offensive Line: 77 Defensive line: 63 Linebackers: 77 Secondary: 55 Place Kicker: 71 Punter: 79
Overall: 78 Quarterback: 77 Running back: 53 Wide Receiever: 99 Offensive Line: 81 Defensive line: 54 Linebackers: 79 Secondary: 80 Place Kicker: 80 Punter: 52
Overall: 65 Quarterback:62 Running back: 72 Wide Receiver: 69 Offensive Line: 78 Defensive line: 65 Linebackers: 62 Secondary:74 Place Kicker: 76 Punter: 64
Overall: 54 Quarterback: 70 Running back: 50 Wide Receiver: 82 Offensive Line: 66 Defensive line: 54 Linebackers: 77 Secondary: 55 Place Kicker: 55 Punter: 68
Overall: 80 Quarterback: 72 Runningback:85 Wide Receiver: 71 Offensive Line: 91 Defensive line: 75 Linebackers: 75 Secondary:69 Place Kicker: 71 Punter: 89
Overall: 71 Quarterback: 75 Running back: 70 Wide Receiver: 79 Offensive Line: 84 Defensive line: 60 Linebackers: 70 Secondary: 69 Place Kicker: 73 Punter: 85
Overall: 90 Quarterback: 69 Running back: 73 Wide Receiver: 73 Offensive Line: 90 Defensive line: 61 Linebackers: 89 Secondary:92 Place Kicker: 82 Punter: 83
Overall: 66 Quarterback: 56 Running back: 65 Wide Receiver: 77 Offensive Line: 73 Defensive line: 55 Linebackers: 73 Secondary:79 Place Kicker: 57 Punter: 66
Overall: 92 Quarterback: 100 Running back: 63 Wide Receiever:90 Offensive Line: 87 Defensive line: 66 Linebackers: 94 Secondary:89 Place Kicker: 55 Punter: 50
Overall: 65 Quarterback: 80 Running back: 61 Wide Receiver: 63 Offensive Line: 74 Defensive line: 77 Linebackers: 75 Secondary: 62 Place Kicker:84 Punter: 79
Overall: 80 Quarterback: 80 Running back: 60 Wide Receiever:75 Offensive Line: 84 Defensive line: 68 Linebackers: 82 Secondary: 82 Place Kicker: 75 Punter: 66